If you like to explore sewing beyond fabric, paper is a logical step. Create greeting cards, mixed media art pieces, bookmarks, scrapbook pages, and other paper items. Making these types of projects is an inexpensive way to be creative because most, if not all, of the supplies needed may be things that you already have on hand. Keep reading for a few tips you need to know when stitching on paper.
Tip #1: Pick Your Paper
Stitch any type of paper such as copy paper, newsprint, scrapbook paper, cardstock, even tissue paper. Use a layer of tear away or cut way stabilizer when stitching lightweight papers such as tissue paper.
Tip #2: Handmade Papers
If stitching handmade papers with added elements such as leaves, petals, etc., sew slowly and carefully. Make sure to avoid any added elements because they may break your needle and/or damage your machine.
Tip #3: Which Stitch?
A variety of stitches are suitable for paper stitching. The straight and zigzag stitches are most often used but many others will also work on paper. It is best not to use heavy, dense stitch patterns as they may perforate the paper and cause it to tear. The typical straight stitch length for general sewing is 2.5 mm. For stitching on paper, adjust the length to 3-4 mm, again to avoid perforating the paper, causing it to separate. Making the stitch longer keeps the paper in one piece.
Tip #4: Which Needle?
Stitching paper dulls your needle and makes it unsuitable for stitching fabric so be prepared to change needles after stitching paper. I keep my dull needles in a marked container and reuse them for stitching paper.  It's a good idea to use a sharp needle such as Jeans and Microtex needles to easily stitch through any type of paper or cardstock. Use the smallest needle that works for your chosen thread to minimize the size of hole it makes on your paper.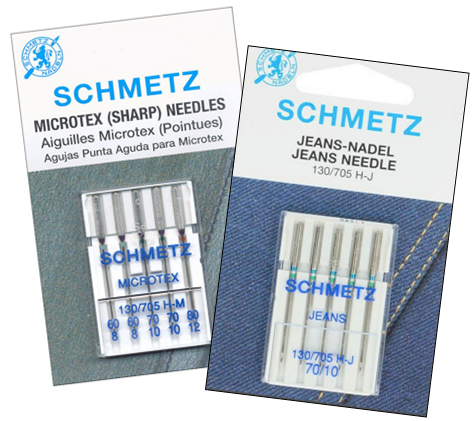 Tip #5: Presser Feet
Almost any presser foot can be used for stitching on paper. It is sometimes easier to stitch textured papers rather than smooth ones because some presser feet tend to slide around on the smooth surfaces. If you run into this situation, try a Teflon-coated foot (used for leather or plastic) to help feed the paper better than one with a metal sole. An open embroidery foot gives you great visibility and is especially useful for stitching paper appliqué.  
Tip #6: Stitch Once
The needle makes holes in the paper and unlike fabric (more like leather), they will not close. Once you stitch, you can re-do the stitches, but the original holes remain so be sure to get it right the first time. Pins also leave holes so use clips or low-adhesive tape to hold paper pieces together for stitching.
Tip #7: Try Machine Embroidery
Create your own greeting cards. These beautiful appliquéd card designs are from OESD and are available at embroideryonline.com. Click here to see the Appliqué Greetings Collection #12615. Mixing paper and fabric, these cards are quick to stitch and add a colorful, personal touch to your greeting cards.